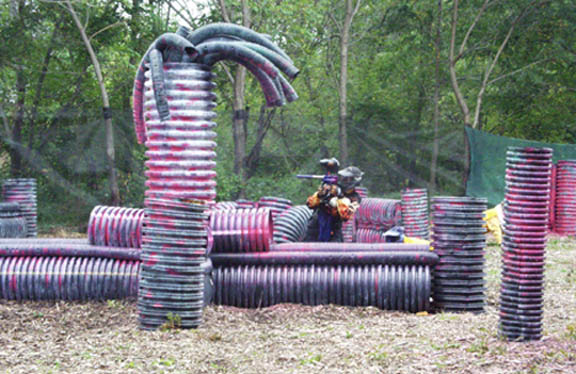 Powerstations NEW field- STORMFRONT
Hyperball is here
you are paintball player---------
Welcome to the
WEB PAGE for Powerstation Paintball, this year is coming out to be the best for paintball. On the new site we are going to cover more events, have more pictures, and make it your favorite paintball site in Iowa.
Times and dates are already filling up, reserve your time now. email us at powerstationpaintball@home.com
or call Andrew @ 833-0259 to fill your reservation times.
Any Question feel free to e-mail me or if you want to join or mailing lists so we can inform you on specials and events.
What if I am under 18- Click Here
How do I get to the field- Click Here
What if I have my own equipment?
Answer-If you have your own equipment then all we charge is $5 for a field fee to cover field maintenance and insurance.
Can I bring my own paint?
Answer-You sure can, if you have your own equipment. If you rent our equipment you must use our paint. We believe that people like to use a certain brand and color and allows players to also play as much as they want. The only rule is that we must inspect it for insurance reasons plus if you rent our equipment then you must use our paint.

Our Mission
Is to provide quality, safe, and enjoyable paintball services in the Waterloo-Cedar Falls area. We want to expand the sport of paintball to new levels in Black Hawk county. If you have any ideas feel free to e-mail or call me and we can discuss and see what we can do.

Company Profile
Owned By Andrew Lusson and Dennis Halverson
We have had great reviews of our field, with both our speedball and forest. Players come back every week to play on our field. With our field compared to playing in your friends back yard, you play against people you have never seen before. Which in turn make you learn more moves and makes yourself a better player.
"My main goal is to bring the sport of paintball to new levels in the Waterloo area and make it affordable for everyone to enjoy. I'm just here to play with others and provide a safe and enjoyable place for everyone to join together to play." - Andrew and Dennis

Contact Information
If you have any questions about paintball feel free to call me for anything. I'll be happy to explain what paintball is and the operation we run out on our field.
Telephone

319-833-0259

Field Phone

Field Phone 404-1393

Postal address

4250 Lafayette Road Evansdale, Iowa 50707

Electronic mail

General Information: powerstationpaintball@home.com
Sales: powerstationpaintball@home.com
Contact: HalversonDennisW@JohnDeere.com
Webmaster: lusson1@home.com